I remember sitting in 8th grade History class when I heard this deep, incredible voice come from the desk next to me. Lizzy was singing along a tune while doing her work and I thought, "I've never heard a voice like that!" So strong, powerful and full of passion.
Lizzy Land grew up in Portland, Oregon and is currently based in Los Angeles, pursuing her music career. One of the things we love most about Lizzy is her authenticity and determination to keep that at the forefront of who she is and what she creates. She recently released her debut EP called Sweet Melodies and we're so stoked for you to learn more about her story and how she got to where she is now.
Meet Lizzy Land…
Where are you in the world?
Riding in a cosmic submarine. 
How do you follow your bliss?
By being uniquely me. Living in Los Angeles can be unnerving to say the least, and maintaining your identity can be difficult. I've had moments both socially and creatively where I questioned who I was. The only way to achieve supreme happiness is to own your true self (which is hard enough to figure out). Settling or not speaking up might sound easier than standing up for yourself or disputing the opinions of others, but in the long run, it feels much worse. My most blissful moments live in the choices I've made to stand by my sincerest convictions. People will respond to your earnestness and appreciate you even more for it- trust me.
When did your passion for music first come about?
My mom always tells this story of a dinner party she had when I was about 3 or 4. I guess she had a bunch of people over and after I had already been put to bed, I ran out into the kitchen and climbed up on a bar stool saying "Eddybody! Ein gonna sing… Ein in da mood for love!". She says she has no idea where I heard or learned it, but that I mimicked a mans' voice and stared at the ground while I sang the first two lines. Apparently, I ended up running back into my room shortly after. Never really shook initial stage fright btw…
I've always felt a deep connection to music. I'd quite regularly sing and dance in front of the mirror in my bedroom pretending I was a Spice Girl, or choreograph dances and film them with my sister. I didn't ever really consider music as a career until I started performing in High School. Being a part of a show choir sparked my initial move to New York and from there I began to write my own music. The first few songs I wrote will forever stay in New York. It wasn't until I got to Los Angeles that my writing felt the most "me".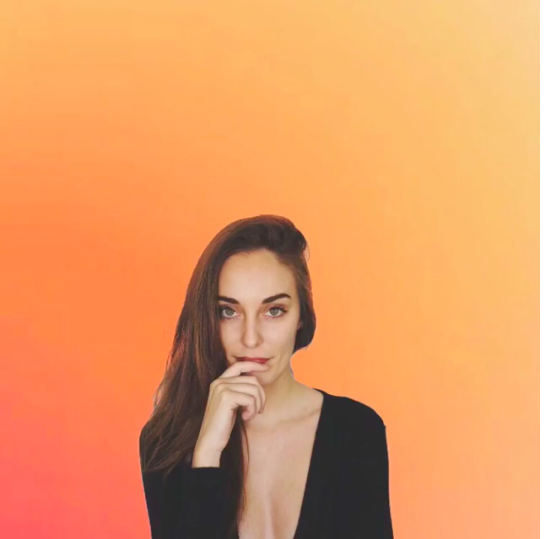 What's it like being in LA and trying to make it in the music scene? Can you tell us about your journey?
LA is ruthless. The music scene is extremely competitive and while there is a lot of opportunity, most of it only comes around once. Thankfully, I met my manager Will Kiker even before I moved to Los Angeles and he took me under his wing from the moment I landed. His friends became mine, and LA seemed a bit less daunting and overwhelming.
I began by collaborating with a few different producers and found that most of our sessions felt like a dead end because I wasn't able to pinpoint exactly what I was going for. My diverse appreciation for music began to hinder my ability to focus on one genre. 
After working with a notable producer named Martin Craft, I was introduced to Nick Littlemore (Empire of the Sun) and began writing for a Cirque Du Solei project. Our collaborative structure was very freeform and he brought out a more experimental side of me, allowing me to focus less on verbiage and more on how each song felt overall. The completed works were unique and versatile forcing me to question the songs I had intended to release. Some time was needed to reflect on my motivation in the industry.
I put "Lizzy Land" on hold for a solid chunk of time, and began performing with another Los Angles based band called Mating Ritual. After getting back from a west coast tour, we began collaborating on new songs and eventually "Cold ft Lizzy Land" was released. The feature allowed me to see myself as an artist again, and I turned to former band member Taylor Lawhon (Suede James) to produce the new songs I had been developing.
Not long after, 'Sweet Melodies' was scheduled for release, and James' and I had begun finishing up 5 tracks for my debut EP. This collaboration has been the easiest and most organic in my experiences in LA so far. It helps that I've known him going on 4 years now, but it is also a point in my life where I am ready to really put myself out there.
While my particular journey has had it's ups and downs, each one was well worth the payoff.
Whether you're producing your own music or doing a cover of someone else's tune, you have such a unique way of creating that's true to you. How did you find your own unique sound? 
I'd call it naivety. I did most of my covers while living in New York and had no idea more than my family and friends would be watching them. I try and channel that fearlessness from time to time but I truly did not consider the videos reaching as far as they did. 
Choosing the covers was really just me fan-girling over my current favorite songs and wanting to sing them myself. The structure of the song was unique in that I'd just go for it on my loop machine. There was no fixing or editing once I'd laid down a loop. I used a Digitech JamMan pedal, and there wasn't a way to isolate any layer/loop I recorded. I think this is what led to its appeal. I didn't really plan out what to play or sing more than practicing chord progressions. It was all feeling-based. Instinctual.
Using mostly vocals set me apart from other covers, and I remember looping being a fairly new concept during that time. 
Where do you get your inspiration from? 
Memories. The good and the bad. The best songs I've written come from my most challenging experiences. The more emotion you can muster, the easier it is to articulate. I tend to romanticize even the most devastating times in my life. I've got great, sun-shining memories too, but sometimes calling a daisy a daisy is even harder for me to do lyrically. 
Who are your top 3 favourite artists right now? 
Niki & The Dove. Francis and the Lights. Dyan.
Tell us about a time when you took a risk?
Releasing 'Sweet Melodies'. Putting yourself out there like that will make you feel extremely vulnerable, and it's hard to risk being judged. It is pretty much guaranteed that you will not receive validation from every single person you'd hoped it would come from. I got some pretty deflating feedback about the single prior to its release, but after the first blow I slowly came to terms with the idea that we all have our own unique opinions and tastes. It was almost more cathartic to receive criticism than praise. Any and all reactions are good!
You might say you'd jump out of an airplane, but once you're really up there and it's time, the ledge paralyzes you. These types of risks are the most important. I immediately felt pride and relief after the song was released.